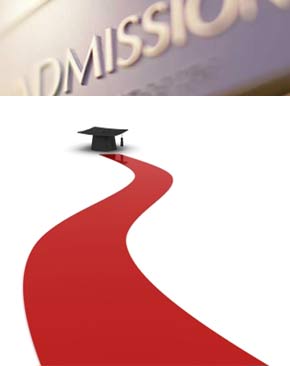 Admission Requirements
Students are admitted to the undergraduate programs at Dhofar University on the basis of their:
General Education Certificate or its equivalent
Results in the English, Math, and Information Technology placement tests.
Based on the results of placement tests, accepted students are divided into two groups as follows:
Students who need remedial work,these will join the Foundation Program, for one or more semesters, until they successfully complete the program
Students who proceed directly to the first year of the diploma or bachelor program.
Students may be exempted from English, Math, or IT Foundation requirements and admitted directly to their chosen fields of specialization if they meet the following criteria:
Exemption from English requires minimum scores of: 5.0 in International English Language Testing System (IELTS) writing minimum 4.5 or Scholastic Assessment Test (SAT I) score of 500 on the verbal section.
Exemption from Math requires a minimum score of 500 on the SAT I math section or equivalent.
Exemption from IT requires an English ICDL certificate or equivalent.
Colleges may have additional requirements to join specific programs, details of which can be found under College requirements in the DU catalogue.
Applicants who have minimum English score of 7.0 IELTS or 380 SAT I (writing section) will be exempted from Freshman English requirements: ENGL 101A/B and ENGL 102.
Please note that, the validity of all these tests is limited to two years from the date of taking the exam. Applicants must submit original certificate of test results and the University reserves the right to verify the authenticity of the certificate. Holders of IELTS and TOEFL certificates issued by institutions outside Oman may be asked to sit for the placement test.