Chemical Engineering
"Why study Chemical Engineering?"
Department of Chemical Engineering
The Chemical Engineering department has been established in 2008 to provide graduates that will have careers in modern industries such as manufacturing, pulp and paper, petrochemicals, food processing, advanced materials and polymers, and many other industries. A wide range of these industries already exists in the Sultanate and in the region.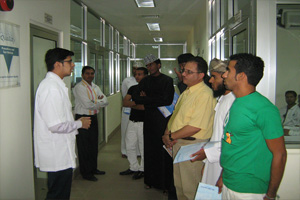 A track in Petroleum engineering has been emphasized in the program through a set of courses leading to a minor in Petroleum engineering. The new Chemical Engineering Department at the College of Engineering will offer two undergraduate degrees: the Diploma in Chemical Engineering degree and Bachelor of Science (BSc) in Chemical Engineering degree.
Objectives
The objectives of the program are to:
Prepare students for leadership roles in the major fields of study in a highly competitive and challenging environment.
Prepare students for life- long learning, critical and independent thinking, sound judgment, professional ethics, and innovation.
Promote excellence in education and research, and provides services to the community at large with special consideration to the needs and circumstances of the Sultanate of Oman, and the region.
Offer an American- style education of the highest standards compatible with the guidelines of the US Accrediting Board for Engineering and technology (ABET), and the Omani Accreditation Council (OAC).
Curriculum and Program Structure
The curriculum is designed to comply with the requirements of accreditation ABET. It includes courses in basic sciences and mathematics, engineering sciences, engineering design, English composition, and the humanities and social sciences. Laboratory hands-on experiences and emphasis on design are important elements that are integrated throughout the curriculum.
The requirements pertaining to Criterion 4 (Professional Component) of the ABET EC2000 specify subject areas appropriate to engineering but do not prescribe specific courses. Students must be prepared through the curriculum for engineering practice culminating in a major design experience based on the knowledge and skills acquired in earlier coursework and incorporating engineering standards and realistic constraints that include most of the following considerations: economic, sustainability, manufacturability, environmental, ethical, health and safety, social, and political. The professional component must include:
One year of a combination of college level mathematics and basic sciences (some with experimental experience) appropriate to the discipline.
One a half years of engineering topics, to include engineering principles and engineering design appropriate to the student's field of study, and
A general education component that complements the technical content of the curriculum and is consistent with the institution objectives.
The CHE program, like other CE programs, satisfies the above-mentioned ABET EC2000 requirements. This includes:
At least 30 credit-hours of mathematics and basic sciences.
At least 71 credit-hours of engineering sciences and engineering design, and
At least 18 credit-hours of social sciences and humanities excluding speech, and technical writing courses.
The curriculum is designed to allow students that successfully complete the first two years of their study to receive a diploma, as well as the Bachelor of Science degree upon the successful completion of the four-year program.