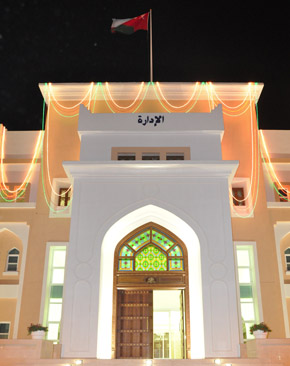 Department of Accounting & Finance
The Department of Accounting and Finance provides integrative and practice-oriented business education. The Department also offers a unique opportunity to develop an appreciation of the causes and significance of current developments in the financial and corporate sectors, and to study theory and practice relating to accounting and finance. The aim of the program is to provide graduates and other individuals that have practical accounting and financial training with the knowledge and skills necessary to pursue a senior level professional career in accounting, financial services or related sectors of the economy.
Personnel
| | |
| --- | --- |
| Department Chairperson: | Mawih Kareem Shaker Al Ani |
| Professor Associate Professors: | Ibrahim Fatouh , Syed Ahsan Jamil, Taher Fadhel Al Bayaty; Omar Ikbal Tawfik. |
| Assistant Professors: | Mawih Kareem Al Ani,Faris Nasif Al-Shubiri,Mohammed Abdul Imran Khan,Abubakarelsidiq Abumraen,Ahmar Uddin Mohammed,Shariq Mohammed,Badreldin Farroug Ahmed Salim,Kavita Chavali,M.Shabbir Alam,Zaroug Osman Mohammed Bilal,Hazem Mohammed Al Samman |
| Lecturers: | Muawya Ahmed Hussein; Shireen Rosario. |
| Secretary: | Amina Mohammed Ali Tabook. |
Department Vision
To have leadership position in the region in accounting and finance education, research, and outreach to the society and the profession in the sultanate of Oman.
Department Mission
To provide the students with accounting and finance knowledge, analytical and thinking skills, and encourage the scientific research in an open learning environment to serve the community.
Programs Offered
The department offers the following programs in specific majors:
Diploma Program
Diploma in Business Administration - Accounting
Diploma in Business Administration – Finance
Diploma in Business Administration - Insurance
Bachelors Program
Bachelor of Arts in Business Administration - Accounting
Bachelor of Arts in Business Administration - Finance
Bachelor of Arts in Business Administration – Insurance
Plans of Study (POS) Accounting Major
Semester 1(Fall)
Code
Course Title
Credits
Pre-requisites
BUSS 101
Principles of Management
3
FPE 103C
BUSS 102
Principles of Financial Accounting
3
FPE 103C
CMPS 100B
Introduction to Technical Computing for Science
3
FPT 102B
ENGL 101A
Basic Academic English
3
FPE 103C
MATH 103
Mathematics for Social Sciences I
3
FPM 102B
Total Credits 15
Semester 2 (Spring)
Code
Course Title
Credit Hours
Pre-requisites
BUSS 103
Principles of Marketing
3
FPE 103C
BUSS 104
Principles of Management Accounting
3
BUSS 102
BUSS 105
Principles of Financial Management
3
BUSS 102
BUSS 106
Business and Information Technology
3
CMPS 100B
ENGL 102B
Basic Academic English II
3
ENGL 101
Total Credits 15
Semester 3 (Fall)
Code
Course Title
Credits
Pre-requisites
ACCT 211
Intermediate Accounting I
3
BUSS 104
ACCT 212
Managerial Cost Accounting
3
BUSS 104
SOCS 102
Omani Society
3
BUSS 201
Principles of Microeconomics
3
BUSS 105
ENGL 203B
Englisht for Business II
3
ENGL 102B
Total Credits 15
Semester 4 (Spring)
Code
Course Title
Credits
Pre-requisites
ACCT 213
Financial Statement Analysis
3
BUSS 104
ACCT 214
Internal Auditing
3
ACCT 211
ACCT 215
Intermediate Accounting II
3
ACCT 211
BUSS 203
Principles of Macroeconomics
3
BUSS 201
ENTR 200
Entrepreneurship - Innovation and creativity
3
ENGL 203B
Total Credits 15
DIPLOMA IN ACCOUNTING (60 CREDITS)
Semester 5 (Fall)
Code
Course Title
Credits
Pre-requisites
BUSS 302
Business Law
3
BUSS 203
BUSS 303
Corporate Finance
3
BUSS 203
BUSS 304
Quantitative Methods in Business
3
MATH 103
ENGL 204
Advanced English for Academic Purposes and Research
3
ENGL 203B
Skills of Life Elective
3
Total Credits 15
Semester 6 (Spring)
Code
Course Title
Credits
Pre-requisites
ACCT 401
Advanced Auditing
3
ACCT 214
BUSS 306
Strategic Management
3
BUSS 302
BUSS 307
Statistics for Business
3
BUSS 304
BUSS 401
Research Methods
3
BUSS 304
ENGL 305
Advanced English language & communication skill
3
ENGL 204
Total Credits 15
Summer - BUSS 405 - Internship in Business (Two Months) - 0 - 8 weeks
Semester 7 (Fall)
Code
Course Title
Credits
Pre-requisites
ACCT 402
Advanced Accounting
3
ACCT 215
ACCT 403
Government and Fund Accounting
3
ACCT 215
BUSS 404
Final Year Project
3
BUSS 401
BUSS 402
Business Communications
3
ENGL 305
General Elective I
3
Total Credits 15
Semester 8 (Spring)
Code
Course Title
Credits
Pre-requisites
ACCT 404
International Accounting
3
ACCT 401 & ACCT 402
ACCT 405
Accounting Information Systems
3
ACCT 401 & ACCT 402
BUSS 403
Business Environment
3
BUSS 306
ARAB 101
Academic Writing in Arabic
3
4th year standing
General Elective II
3
Total Credits 15
BACHELOR IN ACCOUNTING (120 CREDITS)
Plans of Study (POS) Finance Major
Semester 1(Fall)
Code
Course Title
Credits
Pre-requisites
BUSS 101
Principles of Management
3
FPE 103C
BUSS 102
Principles of Financial Accounting
3
FPE 103C
CMPS 100B
Introduction to Technical Computing for Science
3
FPT 102B
ENGL 101A
Basic Academic English
3
FPE 103C
MATH 103
Mathematics for Social Sciences I
3
FPM 102B
Total Credits 15
Semester 2 (Spring)
Code
Course Title
Credit Hours
Pre-requisites
BUSS 103
Principles of Marketing
3
FPE 103C
BUSS 104
Principles of Management Accounting
3
BUSS 102
BUSS 105
Principles of Financial Management
3
BUSS 102
BUSS 106
Business and Information Technology
3
CMPS 100B
ENGL 102B
English for Business I
3
ENGL 101
Total Credits 15
Semester 3 (Fall)
Code
Course Title
Credits
Pre-requisites
SOCS 102
Omani Society
3
BUSS 201
Principles of Microeconomics
3
BUSS 105
ENGL 203B
English for Business I
3
ENGL 102B
FINA 211
Money and Capital Markets
3
BUSS 105
FINA 212
Commercial Bank Management
3
BUSS 105
Total Credits 15
Semester 4 (Spring)
Code
Course Title
Credits
Pre-requisites
BUSS 203
Principles of Macroeconomics
3
BUSS 201
FINA 213
Financial Services
3
BUSS 105
FINA 214
Islamic Finance
3
FINA 211
FINA 215
Risk Management
3
FINA 212
ENTR 200
Entrepreneurship - Innovation & Creativity
3
ENGL 203B
Total Credits 15
DIPLOMA IN FINANCE (60 CREDITS)
Semester 5 (Fall)
Code
Course Title
Credits
Pre-requisites
BUSS 302
Business Law
3
BUSS 203
BUSS 303
Corporate Finance
3
BUSS 203
BUSS 304
Quantitative Methods for Business
3
MATH 103
ENGL 204
Advanced English for Academic Purposes & Research
3
ENGL 203B
Skills of Life Elective
3
Total Credits 15
Semester 6 (Spring)
Code
Course Title
Credits
Pre-requisites
BUSS 306
Strategic Management
3
BUSS 302
BUSS 307
Statistics for Business
3
BUSS 304
FINA 401
Insurance
3
FINA 211
ENGL 305

Advanced English language and communication skills

3
ENGL 204
BUSS 401
Research Methods
3
BUSS 304
Total Credits 15
Summer - BUSS 405 - Internship in Business (Two Months) - 0 - 8 weeks
Semester 7 (Fall)
Code
Course Title
Credits
Pre-requisites
BUSS 404
Final Year Project
3
BUSS 401
BUSS 402
Business Communications
3
ENGL 305
FINA 402
Investment Management
3
FINA 215 & BUSS 307
FINA 403
Behavioral Finance
3
FINA 215
General Elective I
3
Total Credits 15
Semester 8 (Spring)
Code
Course Title
Credits
Pre-requisites
BUSS 403
Business Environment
3
BUSS 306
ARAB 101
Academic Writing in Arabic
3
4th year standing
FINA 404
Personal Financial Planning
3
FINA 401 & FINA 402
FINA 405
International Financial Management
3
FINA 401 & FINA 402
General Elective II
3
Total Credits 15
BACHELOR IN FINANCE (120 CREDITS)
Plans of Study (POS) Insurance Major
Semester 1(Fall)
Code
Course Title
Credits
Pre-requisites
BUSS 101
Principles of Management
3
FPE 103C
BUSS 102
Principles of Financial Accounting
3
FPE 103C
CMPS 100B
Introduction to Technical Computing for Science
3
FPT 102B
ENGL 101
Basic Academic English
3
FPE 103C
MATH 103
Mathematics for Social Sciences I
3
FPM 102B
Total Credits 15
Semester 2 (Spring)
Code
Course Title
Credit Hours
Pre-requisites
BUSS 103
Principles of Marketing
3
FPE 103C
BUSS 104
Principles of Management Accounting
3
BUSS 102
BUSS 105
Principles of Financial Management
3
BUSS 102
BUSS 106
Business and Information Technology
3
CMPS 100B
ENGL 102B
Basic Academic English II
3
ENGL 101
Total Credits 15
Semester 3 (Fall)
Code
Course Title
Credits
Pre-requisites
SOCS 102
Omani Society
3
BUSS 201
Principles of Microeconomics
3
BUSS 105
ENGL 203B
English for Business II
3
ENGL 102B
INSR 211
Principles of Insurance
3
BUSS 105
INSR 212
Principles of Risk
3
BUSS 105
Total Credits 15
Semester 4 (Spring)
Code
Course Title
Credits
Pre-requisites
BUSS 203
Principles of Macroeconomics
3
BUSS 201
INSR 213
Marketing of Insurance Products
3
INSR 211
INSR 214
Personal and Health Insurance
3
INSR 211
INSR 215
Insurance Practices & Policies in Oman
3
INSR 211
ENTR 200
Entrepreneurship - Innovation and creativity
3
ENGL 203B
Total Credits 15
DIPLOMA IN INSURANCE (60 CREDITS)
Semester 5 (Fall)
Code
Course Title
Credits
Pre-requisites
BUSS 302
Business Law
3
BUSS 203
BUSS 303
Corporate Finance
3
BUSS 203
BUSS 304
Quantitative Methods in Business
3
MATH 103
ENGL 204
Advanced English for Academic Purposes and Research
3
ENGL 203B
Skills of Life Elective
3
Total Credits 15
Semester 6 (Spring)
Code
Course Title
Credits
Pre-requisites
INSR 401
Fundamentals of Actuarial Sciences
3
BUS 303 & INSR 215
BUSS 306
Strategic Management
3
BUSS 302
BUSS 307
Statistics for Business
3
BUSS 304
BUSS 401
Research Methods
3
BUSS 304
ENGL 305
Advanced English language & communication skill
3
ENGL 204
Total Credits 15
Summer - BUSS 405 - Internship in Business (Two Months) - 0 - 8 weeks
Semester 7 (Fall)
Code
Course Title
Credits
Pre-requisites
BUSS 402
Business Communications
3
ENGL 305
INSR 402
Risk Analysis & Underwriting
3
BUSS 304 & INSR 215
BUSS 404
Final Year Project
3
BUSS 401
INSR 403
Life Insurance
3
INSR 215
General Elective I
3
Total Credits 15
Semester 8 (Spring)
Code
Course Title
Credits
Pre-requisites
INSR 404
Property & Liability Insurance
3
INSR 401 & INSR 402
INSR 405
Islamic Insurance
3
INSR 401 & INSR 402
BUSS 403
Business Environment
3
BUSS 306
ARAB 101
Academic Writing in Arabic
3
4th year standing
General Elective II
3
Total Credits 15
BACHELOR IN INSURANCE (120 CREDITS)