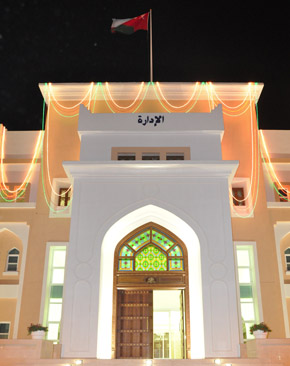 Department of Management Information Systems (DMIS)
The Department of Management Information Systems (DMIS) aims to provide education on the contemporary work systems that require coherent knowledge on the use of information and communications technologies by today's organizations. Hence, the department academic programs are designed to create a new generation of highly motivated, IT competent, skillful professionals able to address the challenges associated with the deep penetration of the information technology in all aspects of today's management of a business entity. In addition, the programs of the DMIS are tailored to equip the bright and dynamic entrepreneur young minds that are eager to engage in developing and shaping Oman's economy of the future. To achieve its mission, the DMIS adopts a variety of learning approaches, blending conventional/traditional teaching with modern eLearning mechanisms, in an environment multidisciplinary by default directly targeting to respond to the needs of the local but also regional society in close coordination with the industry, government and the community.
Personnel
| | |
| --- | --- |
| Department Chairperson: | Mohammed Aref Abdul Rasheed |
| Professors, Assistant & Associate Professors: | Mohammed Yousoof, Mansour Naser Alraja,Mohammad Ahmar Khan, Samir Marwan Hammami, Sarfraz Fayaz Khan, Zurinah Suradi |
| Lecturers: | Murtaza Farooque |
| Secretary: | Musallam Mohammed ALamri |
Department Vision
To become a recognized unit of MIS that provides quality knowledge to students and quality consultation and solutions to industry.
Department Mission
To provide knowledge and skills on management information systems in an open learning environment that will have practical relevance at the work place and has benefit for the community at large. Our faculty members strive to excel in teaching in a student-centered environment, supported by research and service contributing to the professional and academic communities at the national and regional levels.
Programs & Degrees Offered
The Department of MIS offers two programs of study: bachelor and diploma levels. Both MIS programs combine variety of courses that can build a coherent MIS body of knowledge with graduates. The details for each program are as follows:
Diploma in Business Administration - Management Information Systems (MIS)
Bachelor of Arts in Business Administration - Management of Information Systems (MIS)
Plans of Study(POS) MIS
Semester 1(Fall)
Code
Course Title
Credit Hours
Pre-requisites
BUSS 101
Principles of Management
3
FPE 103C
BUSS 102
Principles of Financial Accounting
3
FPE 103C
MATH 103
Mathematics for Social Sciences I
3
FPM 102B
ENGL 101A
Basic Academic English
3
FPE 103C
CMPS 100B
Introduction to Technical Computing for Science
3
FPT 102B
15 Credits
Semester 2 (Spring)
Code
Course Title
Credit Hours
Pre-requisites
BUSS 103
Principles of Marketing
3
FPE 103C
BUSS 104
Principles of Management Accounting
3
BUSS 102
BUSS 105
Principles of Financial Management
3
BUSS 102
BUSS 106
Business and Information Technology
3
CMPS 100B
ENGL 102B
English for Business I
3
ENGL 101
15 Credits
Semester 3 (Fall)
Code
Course Title
Credit Hours
Pre-requisites
SOCS 102
Omani Society
3
BUSS 201
Principles of Microeconomics
3
BUSS 105
ENGL 203B
English for business II
3
ENGL 102B
MISS 211
Introduction to Information Systems
3
BUSS 106
MISS 212
Business Programming
3
BUSS 106
15 Credits
Semester 4 (Spring)
Code
Course Title
Credit Hours
Pre-requisites
BUSS 203
Principles of Macroeconomics
BUSS 201
MISS 213
Introduction to E-Commerce
3
BUSS 106
MISS 214
Systems Analysis and Design
3
MISS 211
MISS 215
Database Development
3
MISS 212
ENTR 200
Entrepreneurship - Innovation and creativity
3
ENGL 203B
MISS 215
Database Development
3
MISS 212
15 Credits
Semester 5 (Fall)
Code
Course Title
Credit Hours
Pre-requisites
BUSS 302
Business Law
3
BUSS 203
BUSS 303
Corporate Finance
3
BUSS 203
BUSS 304
Quantitative Methods in Business
3
MATH 103
ENGL 204
Advanced English for Academic Purposes and Research
3
ENGL 203B
Skills of Life Elective
3
15 Credits
Semester 6 (Spring)
Code
Course Title
Credit Hours
Pre-requisites
BUSS 306
Strategic Management
3
BUSS 302
BUSS 307
Statistics for Business
3
BUSS 304
MISS 401
Application Software and Web Development
3
MISS 214 & MISS 215
BUSS 401
Research Methods
3
BUSS 304
ENGL 305
Advanced English language and communication skills
3
ENGL 204
Social Science Elective
3
15 Credits
Semester 7 (Fall)
Code
Course Title
Credit Hours
Pre-requisites
BUSS 404
Final year Project
3
BUSS 401
BUSS 402
Business Communications
3
ENGL 305
MISS 402
Business Data Communication and Network
3
MISS 214 & MISS 215
MISS 403
E- Government
3
MISS 214 & MISS 215
General Elective I
3
15 Credits
Semester 8 (Spring)
Code
Course Title
Credit Hours
Pre-requisites
BUSS 403
Business Environment
3
BUSS 306
ARAB 101
Academic Writing in Arabic
3
4th Year standing
MISS 404
Business Intelligence and Decision Support
3
MISS 402 & MISS 403
MISS 405
Database Analysis and Design
3
MISS 402 & MISS 403
General Elective II
3
15 Credits
Summer
| BUSS 405 | Internship in Business (Two Months) | 0 | 8 Weeks |
| --- | --- | --- | --- |