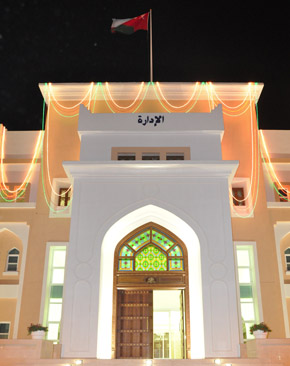 Department of Management & Marketing
The department of management and marketing is designed to inculcate among the students the mixture of theoretical knowledge and skills required for their professional development. The department focused on developing managers whose skills include effective communication, creative thinking and problem-solving. In addition, it fosters the spirit of entrepreneurship among the students.
The major of management is designed in a way that it equips students with the skills of understanding of what is required to capably solve problems, manage resources, and oversee staff on a day-to-day basis. Furthermore, it will help students to develop the professional knowledge and skills of cross functional managers in any organization.
The marketing major of BA program equips students with the skills of understanding behavior of consumers, effectively selling the products, knowhow of product development, pricing and promotional tactics.
Personnel
| | |
| --- | --- |
| Department Chairperson: | Rabia Imran |
| Associate & Assistant Professors: | Rabia Imran, Shanker Menon, Ahmed Taha Kahwaji, Asad Rehman, Hassan Mahmoud Hasan,Khaleequzzaman Khan, Tariq Mohammed Salih Atiya,Kamaal Allil,Moze Nagib gharib, Mohamed Hamdoun, Mohammed Wamique Hisam, Moinuddin Ahmad, Omar Durrah, Ramo Palalic, Sadok Sahli, Shouvik Sanyal, Suhail Ghouse |
| Lecturers: | Khayar Hassan Salim Al Ansi, Mohammed Osman Elrasheed |
| Secretary: | Asma Bahadour |
Department Vision
To provide high quality and practical business education and research to meet the future needs of the country.
Department Mission
To provide relevant management knowledge and skills in an open learning environment that will have practical relevance at the work place and has benefit for the community at large. Our faculty members strive to excel in teaching in a student-centered environment, supported by research and service contributing to the professional and academic communities at the national and regional levels.
Programs Offered
The department offers courses in management, marketing, statistics, and Human Resources. Students can opt for a major in one of the following areas: management or marketing. The details for each major are as follows:
Diploma Program:
Diploma in Business Administration - Management
Diploma in Business Administration - Marketing
Bachelor Program
Bachelor of Arts in Business Administration - Management
Bachelor of Arts in Business Administration - Marketing
Master Program:
Master of Arts in Management (MA in management)
Plans of Study (POS) - Management Major
Semester 1(Fall)
Code
Course Tile
Credits
Pre-requisites
BUSS 101
Principles of Management
3
FPE 103C
BUSS 102
Principles of Financial Accounting
3
FPE 103C
CMPS 100B
Introduction to Technical Computing for Science
FPT 102B
ENGL 101
Basic Academic English
3
FPE 103C
MATH 103
Mathematics for Social Sciences I
3
FPM 102B
Total Credits
15

Semester 2 (Spring)

Code
Course Tile
Credits
Pre-requisites
BUSS 103
Principles of Marketing
3
FPE 103C
BUSS 104
Principles of Management Accounting
3
BUSS 102
BUSS 105
Principles of Financial Management
3
BUSS 102
BUSS 106
Business and Information Technology
3
CMPS 100B
ENGL 102B
English for business I
3
ENGL 101
Total Credits
15
Semester 3 (Fall)
Code
Course Tile
Credits
Pre-requisites
SOCS 102
Omani Society
3
BUSS 201
Principles of Microeconomics
3
BUSS 105
ENGL 203B
English for Business II
3
ENGL 102B
MNGT 211
Human Resource Management
3
BUSS 101
MNGT 212
Organization Behavior
3
BUSS 101
Total Credits
15

Semester 4 (Spring)

Code
Course Tile
Credits
Pre-requisites
BUSS 203
Principles of Macroeconomics
3
BUSS 201
MNGT 213
Business Ethics
3
BUSS 101
MNGT 214
International Management
3
MNGT 211 & MNGT 212
MNGT 215
Operations Management
3
MNGT 211 & MNGT 212
ENTR 200
Entrepreneurship - Innovation and creativity
3
ENGL 203B
Total Credits
15
Semester 5 (Fall)
Code
Course Tile
Credits
Pre-requisites
BUSS 302
Business Law
3
BUSS 203
BUSS 303
Corporate Finance
3
BUSS 203
BUSS 304
Quantitative Methods in Business
3
MATH 103
ENGL 204
Advanced Ensligh for Academic Purposes & Research
3
ENGL 203B
Skills of Life Elective
3
Total Credits
15
Semester 6 (Spring)

Code
Course Tile
Credits
Pre-requisites
BUSS 306
Strategic Management
3
BUSS 302
BUSS 307
Statistics for Business
3
BUSS 304
MNGT 401
Total Quality Management
3
BUSS 304
BUSS 401
Research Methods
3
BUSS 304
Social Science Elective
3
Total Credits
15
Semester 7
Code
Course Title
Credits
Pre-requisites
BUSS 404
Final year Project
3
BUSS 401
BUSS 402
Business Communications
3
ENGL 305
MNGT402
Leadership for Results
3
BUSS 306
MNGT 403
Operations Research
3
BUSS 306
General Elective I
3
Total Credits 15
Semester 8
Code
Course Title
Credits
Pre-requisites
BUSS 403
Business Environment
3
BUSS 306
ARAB 101
Academic Writing in Arabic
3
4th Year Standing
MNGT404
Project Management
3
MNGT 403
MNGT 405
Small Business Management
3
MNGT 402
General Elective
3
Total Credits 15
Summer
| BUSS 405 | Internship in Business (Two Months) | 0 | 8 Weeks |
| --- | --- | --- | --- |
Plans of Study (POS) Marketing Major
Semester 1 (Fall)
Code
Course Tile
Credits
Pre-requisites
BUSS 101
Principles of Management
3
FPE 103C
BUSS 102
Principles of Financial Accounting
3
FPE 103C
CMPS 100B
Introduction to Technical Computing for Science
FPT 102B
ENGL 101
Basic Academic English
3
FPE 103C
MATH 103
Mathematics for Social Sciences I
3
FPM 102B
Total Credits
15

Semester 2 (Spring)

Code
Course Tile
Credits
Pre-requisites
BUSS 103
Principles of Marketing
3
FPE 103C
BUSS 104
Principles of Management Accounting
3
BUSS 102
BUSS 105
Principles of Financial Management
3
BUSS 102
BUSS 106
Business and Information Technology
3
CMPS 100B
ENGL 102B
English for Business I
3
ENGL 101
Total Credits
15
Semester 3 (Fall)
Code
Course Tile
Credits
Pre-requisites
SOCS 102
Omani Society
3
BUSS 201
Principles of Microeconomics
3
BUSS 105
ENGL 203B
English for Business II
3
ENGL 102B
MKTG 211
Consumer Behavior
3
BUSS 103
MKTG 212
Marketing Communication
3
BUSS 103
Total Credits
15

Semester 4 (Spring)

Code
Course Tile
Credits
Pre-requisites
BUSS 203
Principles of Macroeconomics
3
BUSS 201
MKTG 213
Service Marketing
3
BUSS 103
MKTG 214
Customer Relationship Management
3
MKTG 211 & MKTG 212
MKTG 215
Sales Management
3
MKTG 211 & MKTG 212
ENTR 200
Entrepreneuship - Innovation & creativity
3
ENGL 203B
Total Credits
15
Semester 3
Code
Course Tile
Credits
Pre-requisites
BUSS 302
Business Law
3
BUSS 203
BUSS 303
Corporate Finance
3
BUSS 203
BUSS 304
Quantitative Methods in Business
3
MATH 103
ENGL 204
Advanced English for Academic Pruposes and Research
3
ENGL 203B
Skills of Life Elective
3
Total Credits
15

Semester 6 (Spring)

Code
Course Tile
Credits
Pre-requisites
BUSS 306
Strategic Management
3
BUSS 302
BUSS 307
Statistics for Business
3
BUSS 304
MKTG 401
Brand Management
3
MKTG 213
ENGL 305
Advanced English Language and communication skills
3
ENGL 204
BUSS 401
Research Methods
3
BUSS 304
Total Credits
15
Semester 7 (Fall)
Code
Course Tile
Credits
Pre-requisites
BUSS 404
Final year Project
3
BUSS 401
BUSS 402
Business Communications
3
ENGL 305
MKTG 402
E-Marketing
3
MKTG 214
MKTG 403
Retail Management
3
MKTG 215
General Elective I
3
Total Credits
15

Semester 8 (Spring)

Code
Course Tile
Credits
Pre-requisites
BUSS 403
Business Environment
3
BUSS 306
ARAB 101
Academic Writing in Arabic
3
4th year standing
MKTG 404
Supply Chain Management
3
MKTG 401
MKTG 405
International Marketing
3
MKTG 401
General Elective II
3
Total Credits
15
Summer
| BUSS 405 | Internship in Business (Two Months) | 0 | 8 Weeks |
| --- | --- | --- | --- |