Deputy Vice Chancellor Message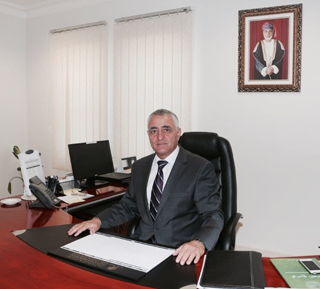 Dear Students, Faculty and Staff
I am delighted once again to welcome all our students, faculty and staff to the start of this new academic year 2016-2017. In particular, I want to extend a warm welcome to all of our new students, faculty and staff.
For those who have joined us: you have made a terrific decision to join us at Dhofar University (DU) and you will soon find out what makes DU an interesting place to be, to learn and make a difference. It is Dhofar's community of exceptional people that makes us such a wonderful university with diverse academic programs, dedicated support services for students, quality teaching, and very promising research projects. I encourage each and every one of you, faculty and students, to make a special effort to get involved with DU activities and make the most out of the rewarding opportunities that await you.
Being the first private University in Oman to apply for institutional accreditation, DU, through its Department of Quality Assurance, has submitted its portfolio to OAAA in January 2016. The outcome of the accreditation is expected to be published by December 2016. I strongly believe that all of us will work together for putting our Mission and Vision in action, while achieving the goals and objectives specified in our Strategic Plan.
DU offers a variety of academic program. It offers 60 academic programs of which are 10 master programs. Furthermore, DU offers variety of courses and training programs for its staff, executives as well as employees of government agencies and commercial firms, and for adult learners in local community through its Community Service and Continuing Education Center.
The academic year 2015-16 saw a significant growth of academic and Research activities. There was a steady increase in the number of publications and scientific presentations. We are hoping that this trend will accelerate into fruitful research projects having moved from the development phase to full research activities. As an indication of our success, DU is ranked second in research among all private Universities in Oman by ResearchGate. Also, DU locally motivates its faculty by presenting the Best Researcher Prize by the end of each academic year.
A major milestone for DU during last academic year was the establishment of DU Research Center. The center focuses on few niche areas of regional importance, dealt with in different research clusters. One of the clusters is the 'Frankincense and Medicinal plants' for which a fully operational research laboratory has already been setup. DU was awarded one Open Research Grant during the last academic year by The Research Council (TRC). For this academic year 2016-17, we have been awarded 6 FURAP projects, and 8 Open Research Grants are pending approval, which is an achievement in itself.
Hence, we encourage our entire faculty to consult the Department of Research and apply for international grants besides TRC funded grants and DU internal grants, and engage in quality research that focuses on the benefits to Oman.
At every opportunity, the leadership of this University has expressed its commitment to the academic excellence of the institution with steady accomplishments and high aspirations. I trust that all of you, like me, are ready for the fresh challenges and opportunities that this new academic year will bring.
There is no doubt that this will be another exciting academic year, and I am looking forward to seeing Dhofar University grow towards occupying a recognized position among the institutions of quality higher education. Together, we will accomplish great things and I look forward to working with you and with your support.
Welcome back and best wishes for a fulfilling and productive year.
Prof. Mohamed Limam
Deputy Vice Chancellor